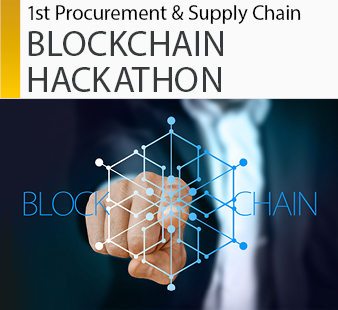 Want to test Blockchain technology on one of your Procurement or Supply Chain use cases?
Be part of the first Procurement & Supply Chain Blockchain Hackathon organised by EIPM, Tecnalia and Achaz.
In October 2018, EIPM, Tecnalia and Achaz will team up to organise a Hackathon which targets to solve, thanks to Blockchain technology, a Procurement/Supply Chain issue you face in your organisation.
TARGET
At the end of this Hackathon, the competing teams will present to the sponsor company how its use case can be designed in a Blockchain environment: definition of assets, creation of smart contracts, interactions of actors, type transactions, etc.
The most efficient teams will build up a Proof of Concept, with live transactions, in a "draft" environment.
COMPETITION TEAMS
The teams will comprise students with Blockchain skills together with students in procurement / supply chain.
The students with blockchain skills will lead the technical choices and code, while the others are in charge of the functional side of the Proof of Concept and restitution to the sponsor company.
Students will be selected by the organisers after close scrutiny and an interview process.
Students must be ready to participate in mixed teams and to work hard on a real use case, to bring an effective solution to the sponsor company, in a learning and fun environment.
SPONSOR COMPANY
The sponsor company can be any company that is willing to solve a specific issue of its procurement or supply chain function during a special event and in an environment where competing teams, sponsor company and organisers challenge and support each other to build and learn.
YOU WANT TO BECOME A SPONSOR COMPANY OR TO FORM A STUDENT TEAM?
Please send an email to: procurementblockchainhack2018@achazconsulting.com
DEADLINES TO PARTICIPATE:
Sponsor Company: 20th August 2018
Team Selection: 31st August 2018
LEAFLET
ACHAZ is a sourcing consulting company which supports procurement transformation to improve competitivity and efficiency, and reduce supply chain risks. Its core activities are : Operational Procurement, Procurement Performance and Management of Innovation through Procurement.

Tecnalia is a technological company that targets to transform technology into GDP. At the crossroads of Academic research and companies, Tecnalia's team are at the forefront of the application of all new technologies. Tecnalia developed a specific know how about Blockchain and set up one of the biggest European laboratories dedicated to it.